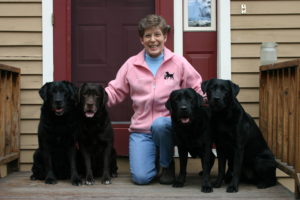 Caron is an obedience, rally obedience and agility instructor, teaching classes at the Small Animal Veterinary Emergency Services (SAVES) in Lebanon, NH and at the Lucy Mackenzie Humane Society (Lucy Mac) in Brownsville, VT.  She is a professional member of the Association of Pet Dog Trainers and a member of the Labrador Retriever Club of Greater Boston.  She is also an AKC Canine Good Citizen (CGC) Evaluator.
Caron has worked with dogs throughout her life.  She grew up with miniature Dachshunds and had 2 Husky mix dogs in her early adulthood.  She was an avid equestrian and also trained hunters and jumpers for clients during her high school years.  Caron graduated from Colorado State University with a Bachelor of Science degree in Wildlife Biology.
In 1998, Caron welcomed her first Labrador Retriever into her home and has never looked back.  The training of that first Labrador introduced her to the world of dog performance sports, and ignited her passion for teaching others how to train their dogs.
In 2000, Caron began teaching group and private obedience lessons at Complete Canine in Plainfield, NH and at in-home locations throughout the Upper Valley.  In 2008, she began teaching obedience, rally obedience and agility classes at the Lucy Mackenzie Humane Society (Lucy Mac).  In 2015, Caron began teaching as an independent instructor, teaching group classes at SAVES and the Upper Valley Humane Society (UVHS).  She continues to teach classes at SAVES, Lucy Mac and also teaches private lessons throughout the Upper Valley.
Caron's teaching experience ranges from Puppy Kindergarten classes and Beginner Obedience through Competition Obedience as well as all levels of Rally Obedience.  She includes consultations on behavioral issues both in private lesson settings as well as in conjunction with her work at Lucy Mac.  Caron teaches Beginner and Intermediate Agility classes at Lucy Mac as well.
In addition to her busy teaching schedule, Caron trains and shows her Labrador Retrievers in Obedience, Agility and Rally Obedience competitions throughout the Northeast and Mid-Atlantic states as well as in Canada.  Caron has earned a multitude of American Kennel Club and Canadian Kennel Club performance titles in these 3 sports with her 11 dogs to date.  Caron also breeds Labrador Retrievers under the kennel name Yarborough, producing 1 litter a year.  At present, she and her husband, Eric, live with 6 Labradors, all pups from their litters over the years.
Caron is passionate about teaching and helping owners to understand their dogs better through training.  She emphasizes positive motivational methods in teaching students and their dogs to develop mutual trust and respect.  In this way, the dog learns behaviors that help it to become a good companion and pet.